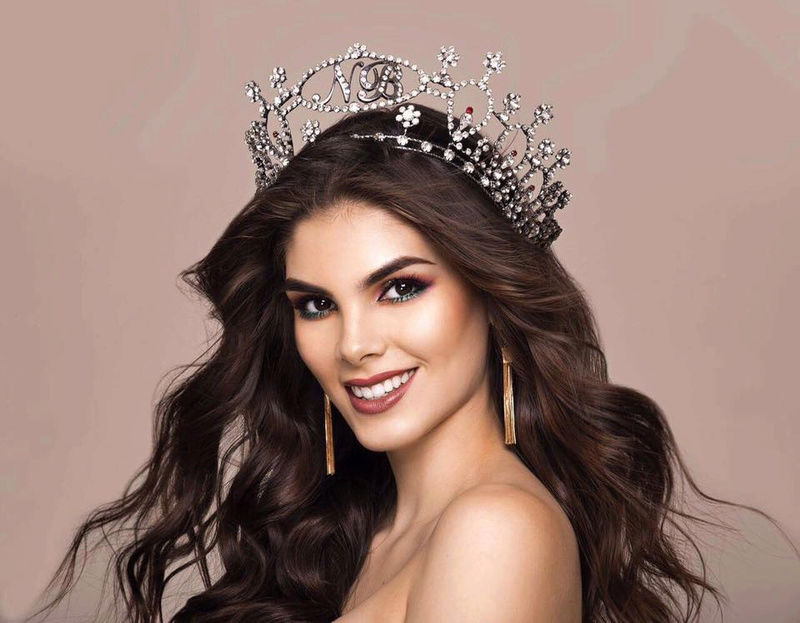 Mexicana Universal 2018 will be the 1st edition of the Mexicana Universal contest (previously called "Nuestra Belleza México"). 

This edition will suffer severe changes that will be revealed during the beginning of the year. The competition is to take place in the month of May 2018 in a venue to be defined. 

Denisse Franco , Mexicana Universal 2017 will crown her successor at the end of the event, the winner will compete in Miss Universe 2018 .




bonner

FORUM ADMINISTRATOR





Number of posts

: 44266


Age

: 28


Location

: Makati City, Philippines


Favourite Pageant

:
Miss Universe
Bb Pilipinas


Favourite Miss

: Lalaine Bennett (Philippines Universe 1963 - From our Town Bayombong)
Rachel Smith(Miss USA 2007)
Angela Martini (Miss Albania Universe 2010)



Registration date :

2008-11-17







bonner

FORUM ADMINISTRATOR





Number of posts

: 44266


Age

: 28


Location

: Makati City, Philippines


Favourite Pageant

:
Miss Universe
Bb Pilipinas


Favourite Miss

: Lalaine Bennett (Philippines Universe 1963 - From our Town Bayombong)
Rachel Smith(Miss USA 2007)
Angela Martini (Miss Albania Universe 2010)



Registration date :

2008-11-17







bonner

FORUM ADMINISTRATOR





Number of posts

: 44266


Age

: 28


Location

: Makati City, Philippines


Favourite Pageant

:
Miss Universe
Bb Pilipinas


Favourite Miss

: Lalaine Bennett (Philippines Universe 1963 - From our Town Bayombong)
Rachel Smith(Miss USA 2007)
Angela Martini (Miss Albania Universe 2010)



Registration date :

2008-11-17







bonner

FORUM ADMINISTRATOR





Number of posts

: 44266


Age

: 28


Location

: Makati City, Philippines


Favourite Pageant

:
Miss Universe
Bb Pilipinas


Favourite Miss

: Lalaine Bennett (Philippines Universe 1963 - From our Town Bayombong)
Rachel Smith(Miss USA 2007)
Angela Martini (Miss Albania Universe 2010)



Registration date :

2008-11-17







bonner

FORUM ADMINISTRATOR





Number of posts

: 44266


Age

: 28


Location

: Makati City, Philippines


Favourite Pageant

:
Miss Universe
Bb Pilipinas


Favourite Miss

: Lalaine Bennett (Philippines Universe 1963 - From our Town Bayombong)
Rachel Smith(Miss USA 2007)
Angela Martini (Miss Albania Universe 2010)



Registration date :

2008-11-17







bonner

FORUM ADMINISTRATOR





Number of posts

: 44266


Age

: 28


Location

: Makati City, Philippines


Favourite Pageant

:
Miss Universe
Bb Pilipinas


Favourite Miss

: Lalaine Bennett (Philippines Universe 1963 - From our Town Bayombong)
Rachel Smith(Miss USA 2007)
Angela Martini (Miss Albania Universe 2010)



Registration date :

2008-11-17







bonner

FORUM ADMINISTRATOR





Number of posts

: 44266


Age

: 28


Location

: Makati City, Philippines


Favourite Pageant

:
Miss Universe
Bb Pilipinas


Favourite Miss

: Lalaine Bennett (Philippines Universe 1963 - From our Town Bayombong)
Rachel Smith(Miss USA 2007)
Angela Martini (Miss Albania Universe 2010)



Registration date :

2008-11-17







bonner

FORUM ADMINISTRATOR





Number of posts

: 44266


Age

: 28


Location

: Makati City, Philippines


Favourite Pageant

:
Miss Universe
Bb Pilipinas


Favourite Miss

: Lalaine Bennett (Philippines Universe 1963 - From our Town Bayombong)
Rachel Smith(Miss USA 2007)
Angela Martini (Miss Albania Universe 2010)



Registration date :

2008-11-17






---
Permissions in this forum:
You
cannot
reply to topics in this forum